California restaurant bans latex gloves
Views: 24 Author: Pidegree Medical Publish Time: 11-28-2019 Origin: Pidegreegroup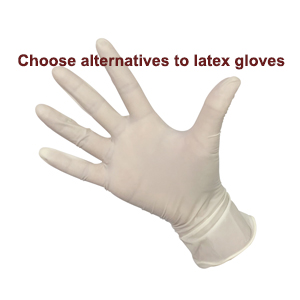 California's impemding ban on latex gloves for restaurants,food handling and retail food establishments,will come into force on Jan.1,2020.This ban is similar to other six states' ban on latex utensils including latex gloves.
Pick the Alternatives to Latex Gloves
Latex sensitvity and allergies have become some serious issues.The latex allergies reactions may include itching,hives,rashes,swelling etc and even death.There is no cure or desensitization for latex allergies.Individuals with latex allergies must avoid contact with latex gloves.
Distributors and restaurants should choose alternatives such as nitrile gloves,vinyl gloves and polyethylene gloves.

Nitrile Gloves:Considered as the perfect alternative of latex gloves,nitrile gloves are made by synthetic rubber.They are durable,latex free ,powder free and dexterous.Pidegree Medical supplys nitrile gloves of Blue(light blue&dark blue),White,Black andPurple,from size S to XL.We only produces high quality powder free nitrile.Set your hand free from powder.
Vinyl Gloves:Vinyl gloves are made by synthetic plastic polymer,cost effective and latex free but not so flexible as latex.They are suitable for light duty work and great for frequent glove change situation.Pidegree Medical supplys both powdered and powder free vinyl gloves of blue and clear color,size from S to XL.
Polyethylene Gloves:Poly gloves are one size fitting all and loose fitting,easy to be changed in busy work conditions.They are the cheapest alternative.
Any more questions please click the 'Let's chat online' in the bottom right corner,I will be there.