Choose the right gloves based on different uses
Views: 46 Author: Pidegree Medical Publish Time: 09-18-2020 Origin: Pidegreegroup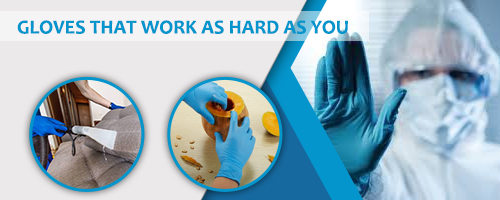 Pidegree Group has been in the disposable gloves industry for more than 20 years. And main products are Latex(powdered and non-powder gloves) , Nitrile non-powder gloves, Vinyl powdered and non-powder gloves, Surgical sterile gloves latex powdered and non-powder gloves, PE and CPE/TPE gloves etc.
For latex gloves,they are made of Natural rubber which raw material is from rubber tree. It has a great elasticity than other gloves. Very soft and comfortable for wearing.And the popular colour is Milky white, but there are also other solution colors like blue and black.
But Latex gloves contain protein, which is prone to allergic reactions for people with allergies.
For this kind of people, it is better to use other gloves, like nitrile, vinyl and PE, which is latex free. Nitrile gloves has a good Puncture resistance and toughness. It has three to five times more resistant to puncture than latex.Which is good for people that use sharp tools, like dentists, and car repairing center, etc.
Popular color for Nitrile is Blue, but there are also other available like black, white,purple.
Both Vinyl and PE gloves are a good and economical solution for food industry.
Some of our clients like Vinyl gloves for medical, they place order for Medium size weight 5.0gram.
And for Vinyl gloves, popular color is clear color, which also called transparent color, and there are also color available like blue and black.
For Surgical gloves, it is sterile latex with powder and non-powder, package is one pair/bag and 50pairs/box.
People can choose the gloves that based on different market and different uses.
Pidegree has served clients from different countries and market, like USA, European and total more than 100 countries, some are with our own brand Heartmed and iGloves, most of them are for OEM.If you visit our showroom, then will see some of the packing boxes.
Welcome to inquire us for more details.