How Do You Size Nitrile Gloves?
Views: 715 Author: Pidegree Medical Publish Time: 07-18-2019 Origin: Pidegreegroup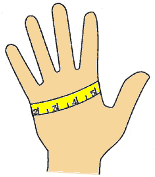 Nitrile gloves are latex free and allergy free.They protect our hands from bacteria,chemical,liquid and other contamination.Finding a fit nitrile glove for your hand can help improve glove's performance and comfort.Here are some tips for measuring your hands and choosing the right size nitrile glove.
How to Measure
1. Measure around the hand at the fullest part (exclude thumb)
2. Measure from the tip of the middle finger to the base of the hand
3. Use the LARGEST of these two measurements for the correct size glove
4. If you are RIGHT handed, take measurements from your RIGHT hand
5. If you are LEFT handed, take measurements from your LEFT hand

Common disposable glove sizes range from extra small to extra large.See the below chart and choose the right size.
Men's Sizes

Women's Sizes

Size

Inches

Centimeters

Size

Inches

Centimeters

XS

7

18

XS

6

15

S

7-1/2 to 8

20

S

6-1/2

17

M

8-1/2 to 9

23

M

7

18

L

9-1/2 to 10

25

L

7-1/2

19

XL

10-1/2 to 11

28

XL

8

20