Is Nitrile Gloves Chemical Resistant?
Views: 64 Author: Pidegree Medical Publish Time: 08-07-2019 Origin: Pidegreegroup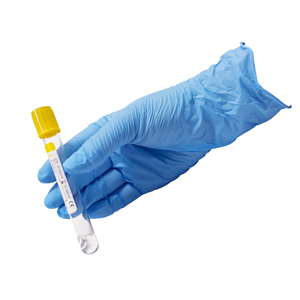 Disposable nitrile gloves are the most common used gloves to handle chemicals in laboratories.Nitrile gloves are made by synthetic rubber which enables them chemical resistance.Nevertheless,it is important to be clear that disposable nitrile gloves only provides limited chemical protection.These gloves act like a physical barrier,and they need to be removed immediately after they are contaminated or broken.
Nitrile gloves resist gasoline, kerosene and other petroleum solvents well (making it a primary component in gasoline-pump hoses). In an effort to prevent latex allergies, medical gloves are often made out of nitrile because it is also resistant to oils and fats in the body.
To maximize nitrile gloves' chemical resistance,below are several tips for your reference.
Choose the right thickness

Choose the right size

A glove that is too tight or too loose will be easily damaged and makes the glove less protective.

Remove the glove carefully

To remove the glove carefully to aovid contacting with the glove outside surface

Avoiding cross contamination of objects and surfaces

Discard the soiled glove after removing it to avoid furhter contamination with other objects.And wash your hands before leaving the lab.