Powdered glove ban takes effect
Views: 5 Author: Pidegree Gloves Publish Time: 04-14-2017 Origin: Pidegree Gloves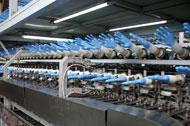 Federal health officials have banned powdered gloves intended for use in surgery or examinations as well as absorb able powders for lubricating surgery gloves.
The prohibition took effect Jan. 18. The ban applies to the use of powdered gloves in both human and veterinary medicine.
The Food and Drug Administration implemented the rule to eliminate risks of inflammation, granulomas, and respiratory allergic reactions, according to a Dec. 19, 2016, Federal Register notice announcing the ban.
"A thorough review of all currently available information supports FDA's conclusion that powdered surgeon's gloves, powdered patient examination gloves, and absorbable powder for lubricating a surgeon's glove should be banned," the notice states. "FDA has concluded that the risks posed by powdered gloves, including health care worker and patient sensitization to natural rubber latex (NRL) allergens, surgical complications related to peritoneal adhesions, and other adverse health events not necessarily related to surgery, such as inflammatory responses to glove powder, are important, material, and significant in relation to the benefit to public health from their continued marketing."
The notice indicates nonpowdered alternatives are viable and that their use avoids "unreasonable and substantial" risks. Agency officials also expect minimal impact through costs or shortages. "Thus, a transition to alternatives in the marketplace should not result in any detriment to public health," states the notice.
In spring 2016, the FDA had published the proposal to ban powdered surgery and examination gloves and glove powder . The risks outweigh the minimal benefits of increasing ease of donning and removing the gloves, according to the agency.
Powdered glove use already has been in decline following reports of adverse reactions and risks as well as industry initiatives to improve safe use of nonpowdered gloves, FDA information states. Glove sales projections indicate at least 93 percent of medical care providers use nonpowdered gloves, according to the agency.
Alternatives to powdered gloves are available at prices similar to those of powdered gloves, according to the FDA.