Properties of vinyl disposable gloves
Views: 60 Author: Pidegree Medical Publish Time: 02-17-2020 Origin: Pidegreegroup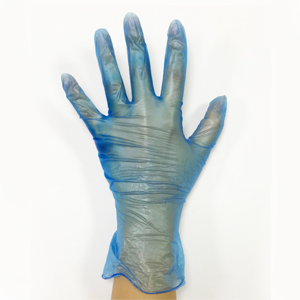 Disposable PVC gloves, is the fastest growing product in the protective gloves industry.And it is widely used in many areas and in people's daily life, like the Health care industry, food service industries, Electronics, chemical industry, and etc.
Why this product is so popular, because PVC gloves with below functional benefits:
• Good protection Performance, double layers of PVC / PU films to provide double protection.
• Odour free, results from special formulations, safe to use.
• Ease in donning due to the excellent slippery inner surface.
• In grip slightly tacky surface, easy to use.
• Comfortable to wear, flexible. It will not cause long worn skin tight. Help blood circulation.
• Do not contain any natural latex ingredients, does not produce allergic reactions, good for person who is allergic. .
• Quality reliable, with good tensile strength, punctures resistance, not damaged.
• Lower price and very Cost-effective to be welcomed by Mass consumer group.
We Pidegree Group produce both powdered and powder free vinyl gloves.
Our powdered vinyl glove is to be added with corn flour, it is necessary to add it during the production process to prevent gloves from sticking together. And it is convenient for wearing.
Pay special attention to the corn flour. We always use the good medical grade powder, otherwise it is not good for the users and the clients.
Our Powder-free is coated with a layer of PU on the inside, which is most used in the electronics and medical industries.
Our regular weight is Medium size M4.0g series, M4.5g series, M5.0g series, with S, M, L, XL of regular sizes for each series based on most of our clients requirement from worldwide.Limited stocks available, too. Welcome your orders any time!