Tips for Choosing Kitchen Gloves
Views: 61 Author: Pidegree Medical Publish Time: 12-20-2019 Origin: Pidegreegroup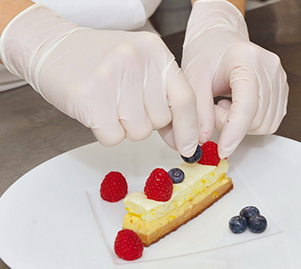 Disposable glove is an essential part of food safety and hand hygiene in the kitchens.Before choosing a glove,the first thing to do is making it clear that whether you need tight or loose fit gloves.Latex,nitrile and vinyl gloves are all tight gloves.These are great for preparing food like cutting,because they offer better manual dexterity and grip.Nitrile and vinyl gloves are you best choice if you have latex allergies.Polyethylene and vinyl gloves are the inexpensive choices.If you need loose-fitting and need to take off the gloves quickly and easily,a loose-fitting poly glove is your perfect option.
We listed four general food processing gloves:Latex,Nitrile,Vinyl,Polyethylene.Which one to choose depends on your budgets and whether you have latex allergies.In the following page,we will also display each glove's features for your reference.
Available in powdered and powder free type

We recommend free powder type for food processing.

Provide better manual dexterity,form-fitting and touch sensivity

Recommended for delicate work,such as slicing and chopping


Not suitable for latex allergies workers

A perfect alternative for latex gloves


Good durability and puncture-resistance for food handling

Non latex and allergy free


Powder free and Clean

Cost effective alternative

Ideal for general foodservice use

Offer improved manual dexterity and touch sensivity

Latex free and allergy free
Loose fitting,ideal for busy working where requires changing gloves frequently

Cost effective alternative

Easy on/off,ideal for fast food restaurants

Suitable for light tasks

Choose the right glove for the right task.If you still have some doubt about choosing which glove,please contact us without hesitate!