What is CPE Glove
Views: 141 Author: Pidegree Medical Publish Time: 12-04-2020 Origin: Pidegreegroup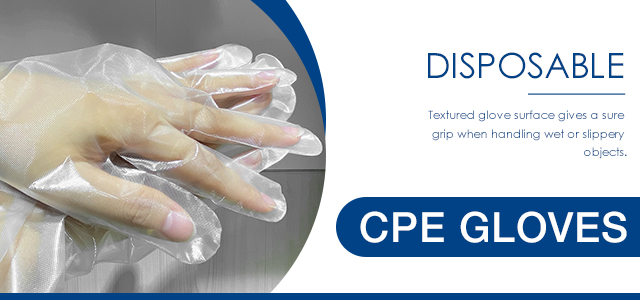 Besides Vinyl, Latex, and Nitrile gloves, two new kinds of Disposable Gloves have begun to grow in popularity: Cast Polyethylene (CPE) gloves and Thermoplastic Elastomer (TPE) gloves.
Learn about 'What is CPE Gloves', and some of their benefits in today's post.



What CPE Gloves are Made Of
CPE gloves are made of polyethylene, a kind of resin (i.e., organic compound) created during the polymerization process of ethynylene.
Polyethylene is known as a "commodity" resin since it can be produced in high volumes at low costs. It's also the most commonly used kind of plastic in the world.
Many other products are made of polyethylene including food wrap, detergent bottles, and shopping bags, among others.
CPE Glove Markets & Industries
CPE gloves are designed for the food service and food processing industries.
When to Use CPE Gloves
CPE gloves are a great alternative for vinyl gloves or latex gloves.They are widely used in Food Processing and some occasions which require changing gloves frequently.
(In fact, when Ohio banned the use of latex gloves in food service operations and retail food establishments, they specifically listed polyethylene gloves as a good alternative for latex gloves.)
CPE Gloves Characteristics
CPE gloves offer many positive benefits – most notably their durability;they are embossed,more easy to grip. They also tend to weigh more in grams than TPE gloves.
When to Use CPE or TPE Gloves
If you're a wholesaler or distributor who works with food service and food processing customers, we recommend that you get in touch with your trusted glove partner if you're evaluating TPE and/or CPE gloves as alternatives to vinyl or latex gloves. They can help you select the best alternative solution(s) for your specific applications.